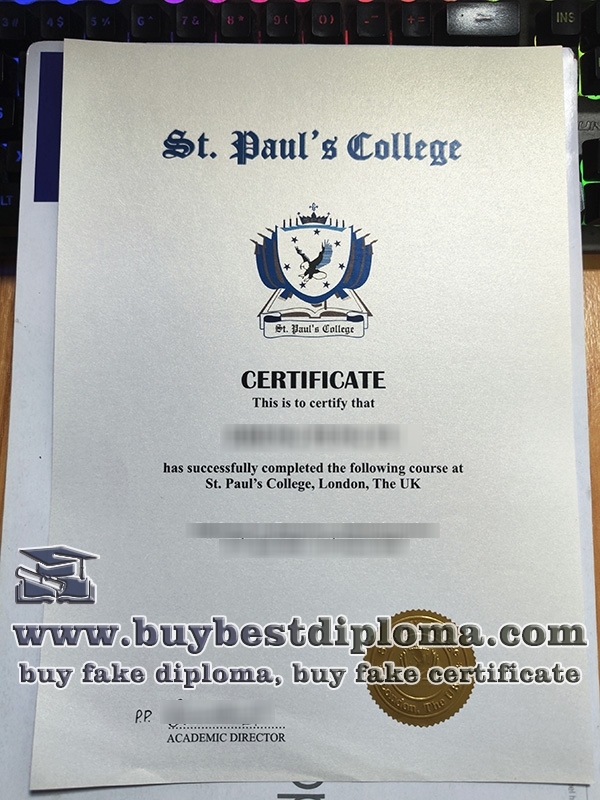 Steps to order a fake St Paul's College diploma, replica St Paul's College certificate, make a fake UK college diploma. The elegant two-storey, tall-ceilinged house with many windows formed the heart of St Teresa's Convent School and forms the staff and administration building. It is at the end of the Ridings in Green Street and was built during the reign of William IV, that is between 1830 and 1837 to designs by an unknown architect. It is a Grade II listed building. It has a simple Doric porch (portico), central round window and open pediment with two bays to either side. Under John Alliston it became the manor house during a period of the late Industrial Revolution with increasing population in the region, when the products of the manor's agriculture and fishing were insufficient to support the local population.
The former manor house close to the Thames was rebuilt in 1851 as Sunbury Park House. These buildings were described as such in a map of 1865. In 1898, it was the home of William Anthony Mitchison, who planted the 1 mile (1.6 km) avenue of horse chestnuts forming The Avenue in the east of his estate. Before the opening of Sunbury Police Station in 1882, Mr Mitchison, who was the local Justice of the Peace (magistrate) had special permission to conduct the court in a room of this grand house.
After the death of Mr Mitchison, the house changed hands several times. It was owned at one time by a non-Catholic group who were not pleased that the newly built St. Ignatius' Church could be viewed from their windows, so they decided to sell the house and lands. At some time the property was owned by Major Peters and his family. Major Peters had two sons, one of whom was killed in World War I and the other killed in a polo playing accident prompting its sale.
The Sisters of Charity of St. Paul purchased the house and lands in 1926. The Sisters worked in St. Ignatius Primary School which was next to the Church and the former smaller Catholic School opened in 1871, on Green Street. A new building, consisting of three classrooms, a staff room and office, was built on the opposite side of Green Street to accommodate the increasing number of pupils.