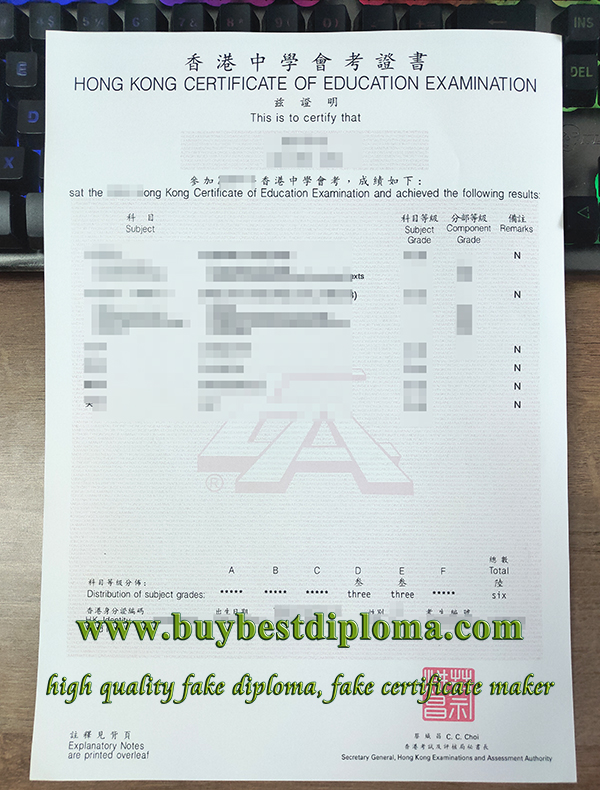 The Hong Kong Certificate of Education Examination (HKCEE, 香港中學會考) was a standardised examination between 1974 and 2011 after most local students' five-year secondary education. Conducted by the Hong Kong Examinations and Assessment Authority (HKEAA). Awarding the Hong Kong Certificate of Education secondary school leaving qualification. The examination has been discontinued in 2012 and its roles are now replaced by the Hong Kong Diploma of Secondary Education as part of educational reforms in Hong Kong. Where to buy a fake HKCEE certificate, buy fake diploma in Hong Kong. Buy fake certificate of education, buy a fake certificate HK.
Students usually took the HKCEE at the end of their five-year period of secondary school in Hong Kong; it was compulsory for students who wanted to pursue further education, but some students took individual examinations to increase their chance of continuing their study or to fulfil certain requirements in tertiary education programs.
Safe way to buy a fake certificate in Hong Kong
The final year in which school candidates were accepted was 2010. There were 127,162 candidates entered for the examination, 90,063 of them school candidates and 37,099 private candidates.
The HKCEE was conducted from late February to June, but major subjects were taken between mid-April and May, after the major subjects examination in the Hong Kong Advanced Level Examination were completed, by the Hong Kong Examinations and Assessment Authority (HKEAA). Oral examinations were conducted in late May to early July.
Examination results were released in early August, traditionally on the Wednesday after the first-round admission of the Joint University Programmes Admissions System had been released. There were 39 subjects available in the HKCEE. Most day-school candidates took 6 to 8 subjects in the HKCEE, with 10 being the upper limit. Apart from Chinese and English, which were taken by almost every school candidate, and language-specific subjects (French, Chinese History (Chinese only), Buddhist Studies (Chinese only), Literature in English (English only), Putonghua (Chinese only) and Word Processing and Business Communication (English only), all subjects could be taken in either Chinese or English. The same standards were applied in marking and grading regardless of the choice of language. And the language medium was not recorded on the results notices or certificates. It was, however, recorded on admission forms.