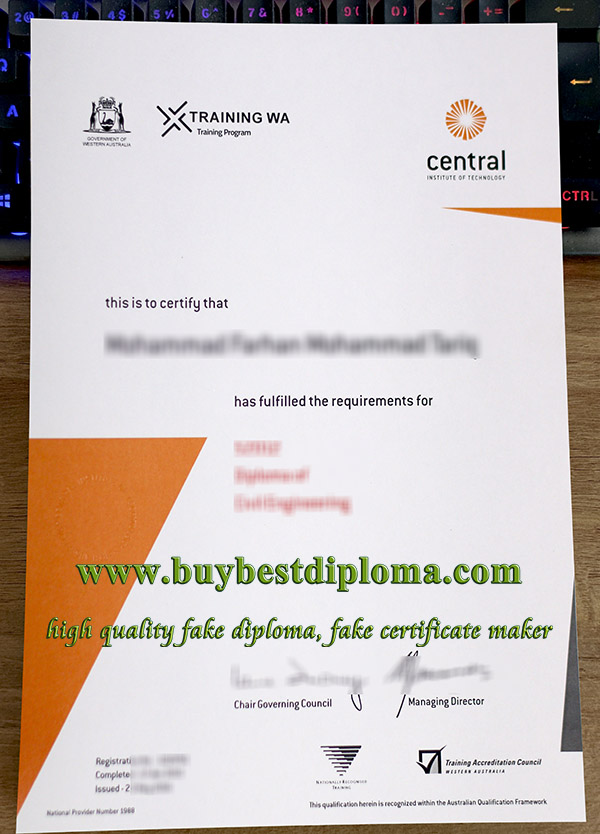 The Central Institute of Technology began as the Perth Technical School. Holding its first classes from 16 May 1900 at the Old Perth Boys School and from various makeshift facilities along St Georges Terrace. The first enrolment was of 69 students in classes including chemistry, metallurgy, mineralogy, geology, woodwork, metalwork, art and design. In 1910 a purpose-built building was constructed to house the school. When to order Central Institute of Technology certificate, make a fake Central TAFE certificate, buy fake TAFE certificate,
Between 1905 and 1914, courses including pure mathematics, physics, chemistry and biology were taught at Perth Technical School on behalf of the University of Adelaide. This arrangement ceased in 1914 when the University of Western Australia became operational.
The school continued to grow in the following decades, establishing additional campuses and offering a growing list of qualifications. In 1966, the institution became more focused on vocational training when areas such as chemistry and metallurgy split away into the Western Australian Institute of Technology (WAIT) (now Curtin University).
In 1990, the institute became the Central Metropolitan College of TAFE following the amalgamation of affiliated colleges at Perth. Leederville, Wembley and Mt Lawley, as well as the Claremont School of Art and the WA School of Nursing. In late 2009 Central TAFE changed its name and branding to Central Institute of Technology.